Hunger affects everyone, but did you know that 40% of the people who use food banks are children?
One of the reasons we enjoy running Grocery Alerts is that we are able to donate so many extra food products that we receive either from trade shows or for the many reviews we do and give them to our local food banks in Victoria.
It is a very expensive city to live in Canada and is shocking seeing how many people use our local food banks.
We try to do our part by giving back as much as we could. We try to donate our time as a family for fundraisers or for the annual Annual Christmas Spirit Dinner (hosting as many as 400 men, women and children). It was incredible seeing the joy on the faces of these children having a nice Christmas dinner with some presents.
Here's your chance to Help Fight Hunger!
May 7-11th is Hunger Awareness week in Canada.
The Everyone Wins With Chicken Campaign, is encouraging MP's from across Canada to submit their best chicken breast sandwich recipe for a chance to win a donation to their local food bank. The prizes are pretty great!
First Prize – $10,000 donation
Second Prize – $5,000 donation
Third Prize – $2,500 donation
Make sure your MP gets involved by tweeting them about the Win With Chicken campaign and let them know you want them to take part! Everyone has a favourite chicken sandwich to share!
Find your MP's twitter handle here and ask them to take part by tweeting-
Hey @MPxxx, our local Food Bank needs $10,000. Pls submit your chicken sandwich recipe. http://bit.ly/HU9Zwu #WinWithChicken
Our local MP is Denise Savoie (NDP) and we have emailed her to take part in this great idea and promotion for chicken and our local food bank.
The winning recipe will also be served to over 10,000 people at the 20th Annual Great Canadian Chicken BBQ in Ottawa on Canada Day!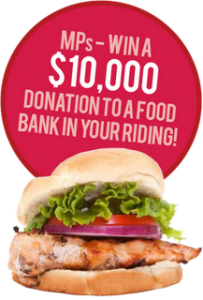 Join us from @GroceryAlerts at the "TW-EAT In" Twitter Party on May 9th from 8-9:30 Eastern time in support of Hunger Awareness Week!
The twitter party host is ShesConnected and the sponsors are The Chicken Farmers of Canada, Maple Leaf Foods and Food Banks Canada. Be part of the conversation and you could win some great prizes too! RSVP to the party and more details here.
Disclosure – Grocery Alerts is participating in the Chicken Farmers of Canada program by http://www.shesconnected.com/. We received compensation in exchange for our participation in this campaign. The opinions on this blog are our own.